October 18th 2004
Burritos on a Budget
Even though Sam Rothblum greatly enjoys my politically-motivated posts, I decided to move away from the presidential arena and post a public-service announcement for all destitute college students everywhere (which means that this post is not targeted to my collar-popped peers at Bucknell, because anyone who can afford an Audi or two probably does not need to dine on microwavable Mexican food).
I had planned on making myself a pair of tasty cheese dogs this evening, but found I had no hot dog buns. I searched the dorm for rolls, but found none; instead, my fellow resident Allie Hills gave me a box of Cedarlane Low Fat Garden Vegetable Enchiladas. Cedarlane describes their enchiladas as
the perfect choice for those looking for healthy, low fat and low calorie, easy to prepare meals. Our Enchiladas are made with a delicious blend of cheddar cheeses, green chilis, olives, organic bell pepper, organic corn, organic pinto beans and onion, wrapped in organic corn tortillas and drenched in a spicy enchilada sauce. The perfect combination—great tasting and no guilt! Our enchiladas have only 3 grams of fat each and are completely natural.
Although not Mexican, I decided to take a chance and try the burritos. The box suggested 5-7 minutes; because I have a 700W microwave, I nuked it for the full seven minutes. As the burritos revolved inside the microwave, the smell of fine microwavable cuisine filled the air. It was so rich that several students ventured down the hall to ask if my Mexican grandmother had come for a visit and was making me burritos. I pointed to the microwave, and they were appalled that a boxed, frozen food could smell so good.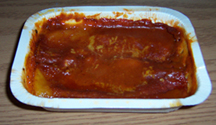 After seven minutes of salivation, burrito heaven finally arrived. However, I was disappointed with my food when I removed it from the microwave. As the picture on your left shows, the food did not look quite as tasty as the box pictured. Liquids pooled in unappealing puddles, and the color was a bit off. Still, I was hungry, so I dug my fork into the burrito and took a bite.
I was impressed. What a tasty burrito! Sure, it wasn't the best thing I had eaten in my entire life, but it satisfied my hunger nonetheless. The medley of organic vegetables mixed well with the organic tortilla and organic enchilada sauce in providing me with a healthy and low-fat organic meal. My only organic caveat was that parts of the burrito were still firm; I would recommend microwaving them more than seven minutes if you have a low-wattage microwave. Aside from that, the burritos were delicious. It's a perfect choice for the vegetarian college student on a budget. (Actually, I don't know how much these burritos cost, but I got them for free, so they definitely did not have any impact on my wallet in any manner, significant or insignifcant, at all.) Trust me, your mouth will thank you—and so will all the chickens and cows that you didn't have to kill to satisfy your need for food.